Jan Yuvan
I came to yoga over 20 years ago when I was introduced to the Kripalu* Yoga tradition. After years of practicing Kripalu Yoga I decided to solidify my dedication to it by becoming a certified Kripalu teacher in 2004. As an athlete, I have a strong competitive spirit. However, in my personal Yoga practice and in teaching I choose to set aside competition, instead defining my Yoga practice as a time of personal exploration and discovery — a time to be attentive to the self — physically, mentally, emotionally and spiritually. While the practice may be challenging on many levels, it is always about self care and nurturing.  I combine my varied personal and professional experience with a pragmatic approach and a strong attention to detail, while allowing ample room for exploration and discovery.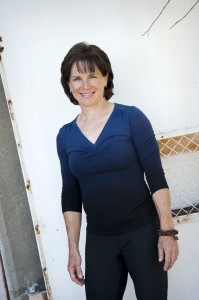 *Kripalu tradition defines Yoga as meditation in motion. It is a form of Hatha Yoga from a Kundalini heritage that emphasizes body awareness and giving the body what it needs to thrive. Kripalu Yoga is one of the first and most well respected schools of Yoga in the United States.
Teaching Experience
Open level group classes
Yoga for people in need of support due to effects of the September 11 attacks on the World Trade Center
Yoga for children in the Pediatric Psychiatric Unit of St. Vincent's Hospital, New York, NY
Yoga, strength and conditioning for the New York City Spartans, a traveling baseball team of teenage boys. Also threw batting practice and assisted with other aspects of practice
Private Yoga instruction to athletes and individuals recovering from injury, trauma and surgery
Interview for WE Channel to discuss Yoga and its benefits and provide tips on getting started
Athletic Interests
I am dedicated to athletic pursuits. My passion is baseball, which I play at every opportunity. I play on both men's and women's teams. I am also an avid student of the game. I began playing softball at a young age and continued through college at the NCAA Division 1 level. I have received baseball instruction from Major League coaches at the Pro Ball Baseball Clinic and am a certified Babe Ruth League/Ripken Baseball coach. I have a wide ranging appreciation for athletics, having competed in triathlons and adventure races and enjoyed snowboarding, kayaking and climbing.
Education
Kripalu Yoga Teacher Certifications, 2004, 2013
Master of Science in Urban Planning, Columbia University, New York, 1996
Bachelor of Science, Loyola University Chicago, 1986
Professional Memberships
Yoga Alliance E-RYT 500 Registration
Kripalu Yoga Teachers Association (KYTA)
International Association of Yoga Therapists (IAYT)
Other Professional Experience
Community Organizer, Northwest Bronx Community and Clergy Coalition, Bronx, NY
Assisted residents of disenfranchised communities in organizing to obtain much needed services such as heat and hot water in buildings, better police protection and decent, affordable housing.
Urban Planner,
Worked in the private sector as a city planner for an engineering/planning/architecture firm with a focus on transportation planning and specializing in the design and planning of bicycle and pedestrian facilities — environmentally sustainable and healthy modes of transportation.
Carpenter/Woodworker
Worked as a carpenter, woodworker and furniture builder.